Delicately nutty sesame seeds. Lean tuna loin. Creamy, tangy tahini-yogurt sauce. Bright green falafel, and charred cucumber salad. These are the components of a superb, and superbly memorable summer dish: June's monthly entree, Sesame-Crusted Ahi Tuna with Fava Bean Falafel, Yogurt Tahini & Grilled Cucumber Salad
The juxtaposition of flavors is complex, but getting this month's entree on your dinner plate is not. Your Here app is your guide to savoring this delicious sesame-crusted tuna recipe, as well as every month's special entree.
Never ordered on the app before? Not to fear. Follow the steps below and you'll be enjoying this month's culinary creation by Chef Michael Mina in no time.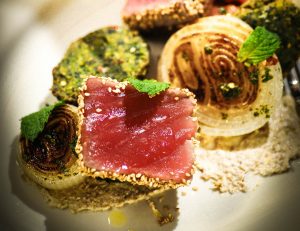 Step 1 – Open the Here app on your smartphone
Step 2 – Click on Mina at the Tower
Step 3 – View delectable entree image. Click "Order Now."
Step 4 – Get tasting tips. Feel your mouth water. Confirm you want to "Order Now"
Step 5 – Complete form with you residence number, phone number and click "Yes" to put your order in.
Step 6 – Receive a phone call from Christy, Manager of Mina at the Tower, confirming that your order is on its way to you. Get excited.
Step 7 – Hear a knock on your door. Open the door – your dinner has arrived!
Step 8 – Open your entree. Dig in. Smile.