Dancing at the Waterfront
Summer in the
City Music Series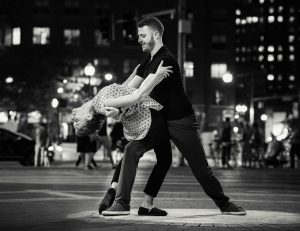 Feel the music and get inspired to boogie and dance at the 19th annual Summer in the City series at the Boston Harbor Hotel. The summer-long entertainment program offers live music every Tuesday, Wednesday, and Thursday, and we got the inside scoop from FLX Movement Director Rob Glover.
"This is one of my favorite Boston summer activities. A lot of dancers from all genres – ballroom, swing, and blues dance – all frequent throughout the summer, and the bands are great to just go and enjoy," says Rob.
Here are some of Rob's top picks with a bit of inspirational dance direction…
POP-SOUL TUESDAYS
GOOD WILL & THEM APPLES

ROB'S TAKE: They'll definitely get the party going with James Brown, Michael Jackson, and Stevie Wonder tracks. They're a wedding band and their sounds are ideal for the rumba, hustle, west coast swing, and a little bit of salsa.
SEE THEM LIVE ON: July 18 and September 5.
RAT PACK WEDNESDAYS
MIKE DUTRA STRICTLY SINATRA BAND

ROB'S TAKE: These guys are great! You'll hear all the Sinatra classics: "Fly Me To The Moon," "The Way You Look Tonight," and more. This is very romantic music that you'd likely hear at galas and events, and it's perfect for social ballroom dances like the foxtrot and single swing.
SEE THEM LIVE ON: July 26, August 9, and August 30.

RICH DIMARE

ROB'S TAKE: Rich plays all the up-tempo, rat pack era tracks with a bit of a Michael Bublé twist. He's great for ballroom dancing and even the occasional waltz.
SEE THEM LIVE ON: July 5, August 2, August 16.
BLUES THURSDAYS
JEFF PITCHELL BAND

ROB'S TAKE: This type of music is the most influential for dance in the U.S. and you really can't go wrong with any of these performances. They play the classics plus some of their own music and it's much easier to dance to…try practicing blues dancing, swing, and the Lindy hop.
SEE THEM LIVE ON: July 13, August 3, and August 31.

FAT CITY BAND

ROB'S TAKE: These guys know that music should be fun. They have their own unique style of blues, roadhouse rock, and jazz.
SEE THEM LIVE ON: July 20 and August 10.
Musical performances run from 6:00 p.m. to 10:00 p.m. For the complete Summer in the City 2017 schedule, CLICK HERE.