Chorizo-Crusted Scallops
A Collision of Flavors from Land & Sea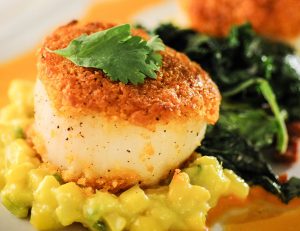 How many flavors can you taste? It's an odd question, but it's something considered by chefs around the world. If you ask the pros at Mina at the Tower, cooking revolves around balancing four elements of taste – sweetness, spiciness, bitterness, and richness. And all four of these flavors come together in the July featured entrée: chorizo-crusted scallops with mustard greens and jalapeño-creamed corn.
Let's start with the scallops. This is the sweet. Tender and ocean-fresh, the richness of each scallop is intensified by pulling out their sugars with a nutty, caramelized sear. Then, comes a bit of spicy. Each scallop is wrapped in a smoky and crispy chorizo crust. This crunchy crust packs a punch of garlicky richness and sweet heat.
Sweet and picante meet again when each chorizo-crusted scallop is carefully placed beside jalapeño-creamed corn. The corn brings a rich, creamy texture and an earthy sweetness, while the jalapeño adds just the right amount of kick to the dish.
Last, but certainly not least, comes a bed of mustard greens dressed in a red pepper chorizo vinaigrette. The hearty texture of the sautéed greens adds a subtle bitterness that helps balance the bold, fresh flavors of this luxurious dish that draws from land and sea.
Now it's time to put your taste buds to the test. Can you detect the four elements? Head down to the Owner's Lounge and try for yourself, or order it now on the HERE app and enjoy from the comfort of your own residence.