Jagged Little Pill
Broadway Show Opens in NYC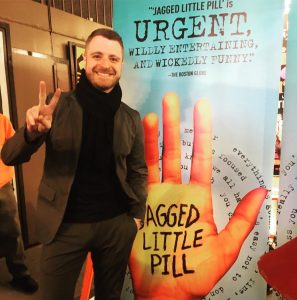 Isn't it ironic, don't you think? A group of Bostonians traveling to New York City to see a show that originated in… Boston.
Jagged Little Pill, a rock musical inspired by Alanis Morissette's 1995 album, quickly made the leap from Cambridge-based production to New York City Broadway Show. It just opened in Broadhurst Theatre on December 5, and you can be one of the first to see it on its new stage!
Director of Movement Rob Glover is taking a small group of residents on an overnight trip to NYC on Friday, February 14 – Saturday, February 15. It's the perfect way to celebrate Valentine's Day Weekend with your significant other or a group of loved ones. 
A luxurious LimoLiner will pick up the group in front of Millennium Tower, fully equipped with snacks for the short journey. The group will enjoy dining and exploring together on the first evening before catching the matinee show on the second day. For full details on the upcoming trip, please email Rob Glover at rob.glover@me.com.
Jagged Little Pill Plot Summary
The Healys—Mary Jane, Steve, and their teenage son and daughter Nick and Frankie—appear to be a picture-perfect suburban family. Mary Jane Healy is a mom obsessed with keeping it all together despite the fact that her life is spinning out of control. She secretly harbors an addiction to prescription pain pills, and her marriage to Steve is distant and sexless. Her daughter, Frankie, who is adopted and the only black member of the family, feels alienated by the way her "colorblind" mother has diminished Frankie's black identity. She is also exploring her burgeoning queerness with her best friend with benefits, Jo. Mary Jane's son Nick is dealing with the pressure of being the golden child of the family—which is complicated when his best friend, Andrew is accused of raping Frankie's friend. When the Healys' lives are disrupted by a series of disturbing events, they must face harsh truths about themselves, their community, and the world around them.