The Dish that Defined
Chef Michael Mina's Career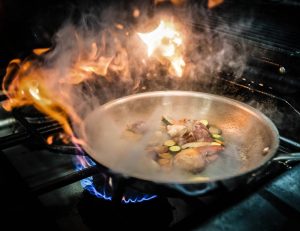 Fresh-steamed, succulent lobster piled high in a warm, buttered hot dog bun – it's a summertime staple in New England. While coastal seafood shacks might be closing up shop for the season, you don't have to bid farewell to the sweet flavors of lobster just because the leaves are starting to fall to the ground.
In fact, this month's featured entrée combines the oceanic essence of lobster, the creamy-spicy glow of coconut-curry, and market-fresh seasonal vegetables and bakes them all into a soul-satisfying and hearty pot pie that gives the world of comfort foods a whole new meaning.
But have you ever tasted something so uniquely different, but equally delicious and wondered how the chef came up with such a mouthwatering culinary creation? For James-Beard Award Winning Chef Michael Mina, it was a labor of love. In an interview with Wine Spectator, Chef Michael shared the story behind the dish: "We had 20 people coming over, and my wife was like, 'I want a lobster dish.' I said, 'I'm not going to sit and break lobster and do this for 20 people.'" So, like all great chefs, he started experimenting in the kitchen and thus, the lobster pot pie was born. The dish debuted as one of his first signature creations at Aqua in San Francisco and has remained on menus at his restaurants for more than 20 years – including right downstairs at Mina at the Tower.
Ready to dive in? You can put your cooking skills to the test and make the lobster pot pie using Chef Michael's personal recipe and how-to videos HERE. However, if it's too much for you to tackle at home, then simply order to your residence through the HERE App or grab a table and a glass of wine and enjoy by the fireside in The Club.
---
PABU Boston
October Happenings
RAMEN BAR POP-UP
Every Sunday from now through November, PABU will be offering a pop-up ramen bar from 5:00 p.m. to 9:00 p.m. Build your own ramen dish by choosing a base, protein, and toppings from the options below.
Choose a Ramen Base ($12)
Choose a protein (+$2)
Choose your toppings (2 included, $1 per additional topping)

Shio Ramen: Light, creamy, balanced broth
Shoyu Ramen: Dark, clean, satisfying broth
Mazemen: Rich Garlic Sauce, no broth

Pork Belly Chashu
Fried Pork Gyoza
Chili Garlic Minced Chicken

Pickled Bamboo
Soy Cured Egg
63° Soft Egg
Kimchi
Scallion
Black Garlic Oil
Pea Tendrils
Enoki Mushroom
SPECIAL EVENT IN THE PRIVATE DINING ROOM
Whether you're starting to think about your holiday party or planning a business meeting for your team, PABU Boston can help create a memorable event for you and your guests.
Interested in learning more? Check out the special events brochure or reach out to Rebecca Massi for all event inquiries.