New Menu Items
Classic Comfort Foods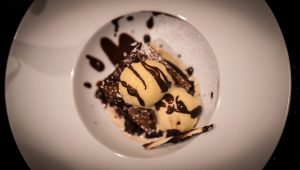 There are few things more satisfying than curling up with a big bowl of something delicious at the end of the day. Comfort food is the ultimate (not-so) guilty pleasure, and this month at Mina at the Tower, we have two new menu items sure to please a range of palates.
Do you crave carbs after a long day? The classic pasta bolognese is a bowlful of hearty nourishment made just for you. The pleasantly peppery meat sauce pairs beautifully with the toothy pappardelle, and is served in a bowl that's not too big and not too small. Shaved parmesan and fresh herbs top the dish, and make for a simply satisfying main meal.
Is your sweet tooth calling? The new brownie dessert is the perfect answer. Scoops of cool, homemade, vanilla ice cream, powdered sugar and generous drizzles of chocolate fudge top a warm chocolate brownie that is just gooey enough on the inside to meld beautifully with the melty ice cream. It's enough to share, but you probably won't want to.
And what if you need a little salty and a little sweet? Get a bowl of each! (we won't tell.)
Bonus Bites: Be sure to be on the look out for a tasty, crunchy, totally craveable snack-mix coming soon to the bar at Mina at the Tower.