Mina Menu
Eight, New Flavors for Fall

Fall is here, which means it's time to embrace cooling temperatures by indulging in some hearty food. Or perhaps you'd rather hold on to the last days of sunshine by keeping your dining light. Whichever option you choose, these new menu items at Mina at the Tower will help make the change of seasons a bit more delicious.
BRAISED SHORT RIB TACOS
Tender, braised beef cooked low and slow for irresistible flavor wrapped in a tortilla with freshly sliced avocado, pickled onions, and a delicious cilantro cream.
SALMON TARTARE
Salmon cured to perfection paired with a creamy, Greek tzatziki sauce that will take your taste buds on a journey to the Mediterranean with just one bite.
SALT & PEPPER CALAMRI
Rings of calamari lightly fried and seasoned until crispy and golden brown, then served with banana peppers and a sweet Thai chili sauce for an excellent starter to share.
PUMPKIN SOUP
It wouldn't feel like fall without a bit of pumpkin! Cozy up with a bowl of pumpkin soup made with parmesan and heavy cream. This silky, creamy recipe will warm up even the coldest days.
FATTOUSH SALAD
Romaine lettuce, tomato, and cucumber topped with a refreshing sumac dressing make for a bright and healthy salad.
CHEESESTEAK SANDWICH
Wrap your hands around a baguette stuffed with thinly sliced beef, sweet caramelized onions, and melted American cheese. This classic sandwich has a big reputation for satisfying hearty appetites.
KING SALMON WITH CHARRED CORN SUCCOTASH
For a dinner packed with nutrients, try the salmon simply seared and served with a medley of charred corn, fava beans, and fingerling potatoes.
CHICKEN & RICE BOWL
Grilled chicken, dried shiitake mushrooms, and garlic fried rice tossed together in a bowl that's guaranteed to fill you up.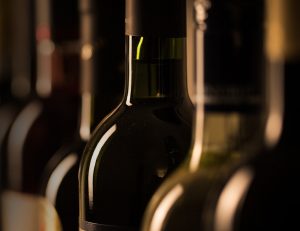 Craving more? Keep an eye out for these Taste & Learn events curated by the Mina team:
André Brunell Five-Course Dinner with Pairings
Wednesday, October 24 at 7PM
Bruno Giacosa Five-Course Dinner with Pairings
Tuesday, November 13 at 7PM
Holiday Bubbles Education
Thursday, December 13 at 7PM
---
PABU BOSTON FALL HAPPENINGS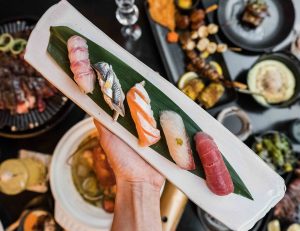 SUNDAY'S ARE FOR OMAKASE
"It's one of the greatest omakase experiences you'll ever have," Chef Michael Mina told Zagat. Head downstairs to PABU on any Sunday and experience the five-course nigiri feast for $55. To see the menu, CLICK HERE.
HOME FOR THE HOLIDAYS
The holiday season just got a little bit easier. Use your Millennium Tower VIP card to reserve the Private Dining Room for your next festive fête and enjoy 20 percent off all food purchases.