Flavors from Spring's First Harvest
Mina at the Tower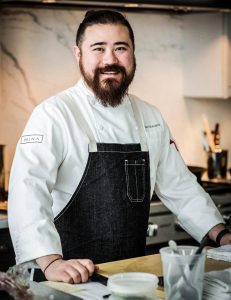 There is nothing better than the flavors of spring's first harvest: slender spears of asparagus, leafy spring onions, fresh peas and green beans. My mouth is watering just thinking about the crisp vegetables. More than anything else though, I am dreaming about my first taste of a flaky salmon filet. I wait all year long for this delicacy to come into peak season.
Luckily for me, Mina at the Tower's spring menu is available now and features a Pan Seared King Salmon. The North Pacific fish is buttery in flavor, fully satisfying my desire for something rich and savory. The dish comes with roasted cauliflower, mint, carrot romanesco and pickled red onions.
The changing of seasons also signals the need to swap out my whiskey on the rocks for a lighter beverage featuring clear spirits. It only takes me one quick glance at the new cocktail menu to know what my spring signature drink will be: the Cranberry Ginger Fizz. Light, refreshing, and bubbly, this drink features fresh limes and cranberries in a Plymouth gin and ginger beer mixture. Delicious!
Below is a sneak peek at the new spring offerings. To see more seasonal items on the menu, be sure to visit Mina at the Tower.
STARTERS
Zesty Tomato Soup
Olive Oil, Crème Fraiche
ENTREES
Roasted Organic Chicken Breast
Beluga Lentils, Baby Spinach, Lemon & Parsley Jus
Pan Seared King Salmon
Roasted Cauliflower, Carrot Romanesco, Mint, Pickled Red Onion
DESSERTS
Vanilla Bean Crème Brûlée
Turbinado Sugar, Macerated Raspberries
COCKTAILS
Cranberry Ginger Fizz
Plymouth Gin, Lime, Fresh Cranberry, Pear, Ginger Beer
Turmeric & Citrus
Ketel One Vodka, Orange Juice, Lemon, Lime, Turmeric
WINE BY THE GLASS
Joseph Carr Chardonnay
Sonoma Coast, CA 2016
Seghesio Family Vineyards Zinfandel
Sonoma County, CA 2016