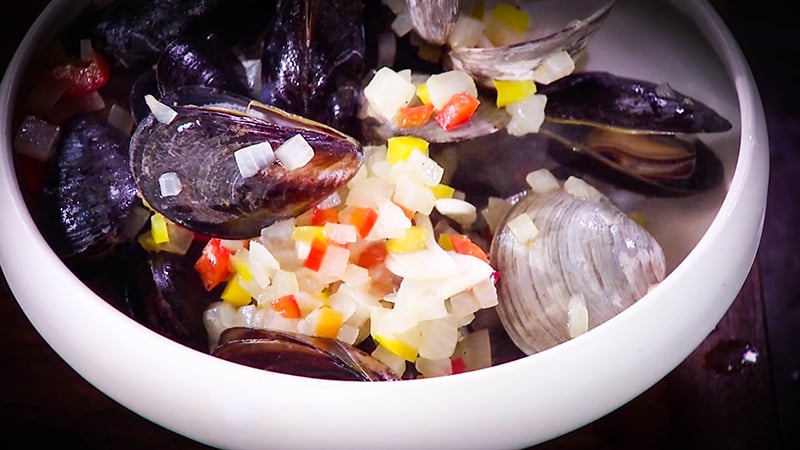 What is more romantic than sitting at the perfect table with the one you love, candlelight flickering, over a gourmet dinner for two? Why, recreating that perfect Valentine's evening experience in your own home, of course.
There is no need to agonize over reservations in a packed restaurant, as even the most amateur of chefs can impress by ordering up Mina at the Tower's monthly entree as a prepped "two-pot" meal. Perfect for sharing, this month's Crab Cioppino with mussels and clams, orange and red pepper rouille and crab toast is a delicious and indulgent dinner that you can easily finish yourself and serve alongside your favorite bubbly, to great acclaim.
This stew starts with an intensely tasty crab broth. The shells of Dungeness crabs bring rich seafaring flavor, while sweet leeks and sweetly acidic orange juice amplify the crab's sweetness. Chile peppers balance that sweetness by kicking up the heat. Crab legs and steamed clams and mussels give the dish both freshness and heft. The sourdough toasts, topped with fresh-picked crabmeat and dressed in a rich, creamy rouille are ideal for scooping up and sharing the last bites of your delectable dinner for two.
Of course, if you'd rather save the clean up as well as the prep, you can simply stroll down to the Club for a special Valentine's date at Mina at the Tower. The three course, prix-fixe dinner, paired with wine if desired, is the perfect, unfussy way to celebrate you. Close the evening with a nightcap by the roaring fireplace and you've got another Valentine's day for the books.
Have your Cioppino delivered to your door by contacting the Concierge or using the MTB HERE app.

For Valentine's dinner reservations at Mina at the Tower, contact the Club Concierge, and view the menu here.