Winter winds, cold weather and dry air have made their mark on Boston this year. They may have also left your skin feeling tight, dry, itchy and chapped. As spring teases us with the occasional warm, wonderful day, we've begun to think about peeling off our layers and prepping for days of bare shoulders and afternoons spent sitting in the sunshine – and with that new season comes a new skincare routine. Here are some tips on how to refresh your skin as we move from winter to spring.
A professional aromatherapy facial is great way to soothe and reinvigorate your skin, with the added benefit of relaxing your mind as well. In fact, facials are recommended at the start of every new season when allergies and environmental stressors can be higher than normal, because they can help ease the skin and prevent breakouts and bad reactions. A facial is also the best way to clear out blocked pores and slough off dead skin cells. So if your face is feeling the winter blahs, log onto your MTB FLX app and check out the selection of facials and boosters.
Have you been layering on thick creams, heavy foundations and medicated lip balms? While these products are nice for locking moisture into winter-ravaged skin, the dawn of spring calls for lighter, more dewy products for both face and body. Look for water-based formulas and try swapping your foundation for a tinted moisturizer. While you're at it, now is a good time to reassess all the products in your drawer and toss those that aren't working for you. Makeup should be thrown away at the year mark, as older products can build up bacteria. Creams and lotions you've been hanging on to for more than two years should also get the boot, as that is the shelf life of the preservatives in most products. Less clutter is a surefire way to streamline your routine, and if you find you're left with little to nothing after you spring clean, well then a skin-shopping trip is in order!
When is the last time you washed your makeup brushes? If the answer is "you can't remember," a spring brush cleaning is in order. Here's how to do it: Fill a glass with warm water and add one tablespoon of a gentle, clarifying shampoo or gel cleanser, then swirl your brushes in the glass, one at a time. After you've swished up a good lather, rinse the brushes well and use a comb to detangle the bristles. To dry them, use a blow dryer or sit them upright in a glass in the sunshine to air dry.
Being stuck indoors can make anyone grumpy, but if you've found that the frown lines on your face are more permanent, a MedSpa treatment may be the fix you need. "Many of my patients come in concerned that people are thinking that they are angry when they're not," said FLX's Dr. Edgar Ballenas, a board certified MD in medical aesthetics. "For them, Botox can be a great solution to relax the face and reduce or remove those lines. On the other hand, some people are more interested in maintaining a fresh appearance. In this case fillers may be a better solution because they plump, leading to a more youthful look" Book a MedSpa appointment at FLX and Dr. Ballenas himself will provide you with the skincare solution you seek.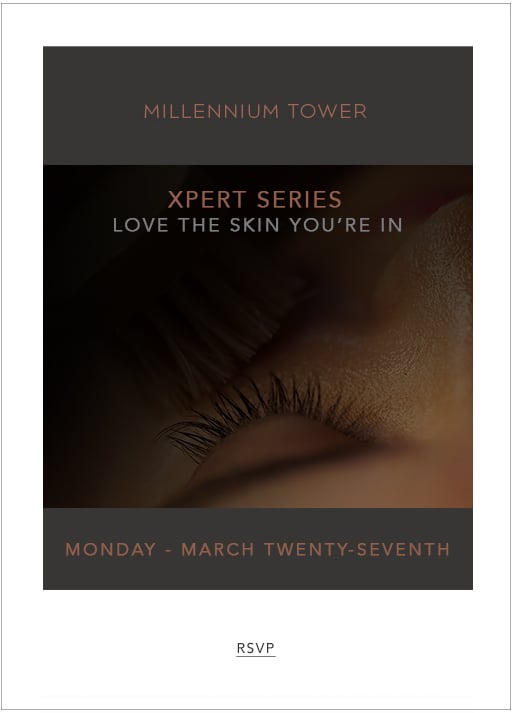 If you have several areas of concern and are not sure where to begin, a professional skin consultation should be your first step. Look no further than this month's La Vie Xpert Series, featuring a mini skin analysis by Master Esthetician Maria Lekkakos. In a 20-30 minute session you will learn the proper cleansing and toning techniques for your skin type and receive a customized mask and moisturizer. You'll leave with a solid spring skincare plan, a beauty gift bag, and a glowing complexion. If you haven't already, RSVP at the link on this page.
---