When the blistering winter winds whip through the city, you layer on your coziest sweater and jacket and brace yourself for the day ahead. Yet somewhere between the shopping crowds, traffic jams, and back-to-back evening affairs, you catch yourself feeling more miserable than merry.
Before you let the cold weather and seasonal stresses bog you down, take a moment for yourself. A little bit of mindfulness can go a long way. Fortunately – for the Millennium Tower resident – all you need to get started is a short elevator ride down to FLX Wellness. There, you can work with a committed team of Xperts to boost your health and happiness.
Still feeling Grinch-like? We got the inside scoop from FLX Registered Dietician Tava Sternberg on some of her favorite tips for keeping the season balanced and bright. Check it out HERE…
Whether you prefer working out individually or in a group setting with family and friends, FLX Wellness has tons of classes and training options to get you moving. Unwind with a guided yoga session on Tuesday, December 5, led by my dear friend and one of the many talented Xperts, Allison Daroie. Learn meditation and breathing techniques that can help keep your mind and body connected and at peace throughout the season (plus, you're going to need that Warrior Pose to take on those shopping crowds!). However, if Downward Dog isn't for you, there are several other frequently updated group classes that offer hands-on training in total body conditioning, cycling, and more. CLICK HERE for class options, details, and scheduling.
If you're planning on fasting leading up to a big party or dinner, DON'T! Never skip meals! Eat small meals throughout the day, every two to four hours.
Help the host by bringing a healthy side or salad to share. Having at least ONE healthy item on your plate is a good thing! You can check out two of my favorite crowd-pleasing recipes below.
If possible, fit in a workout before going to a holiday party. Even a short workout is better than nothing!
Move away from the kitchen or wherever food and appetizers are being presented to avoid mindless snacking.
You should always be drinking plenty of water throughout the winter no matter what. However, if you're going to have more than one drink, alternate water for every alcoholic drink to avoid the dreaded hangover (you can thank me later!).
Choose smaller utensils for serving and smaller plates for eating. This will help control your portion sizes. Try filling most of the plate with fibrous veggies that will fill you up. I've shared two of my favorite healthy recipes below.
This one can be tricky if you're digging into something you really love, but take your time to really enjoy the special foods. Try to put down the fork between bites and have a sip of water.
Don't set yourself up for failure. Of course, you're allowed to have dessert and "indulge" every once in a while. After all, the holidays are a special occasion with special treats! If you're trying to lose weight, that may not be as realistic as weight maintenance is during this time.
If you need motivation, daily accountability, help, and assistance getting yourself on track, please schedule time with me or any of our FLX Wellness Xperts by CLICKING HERE.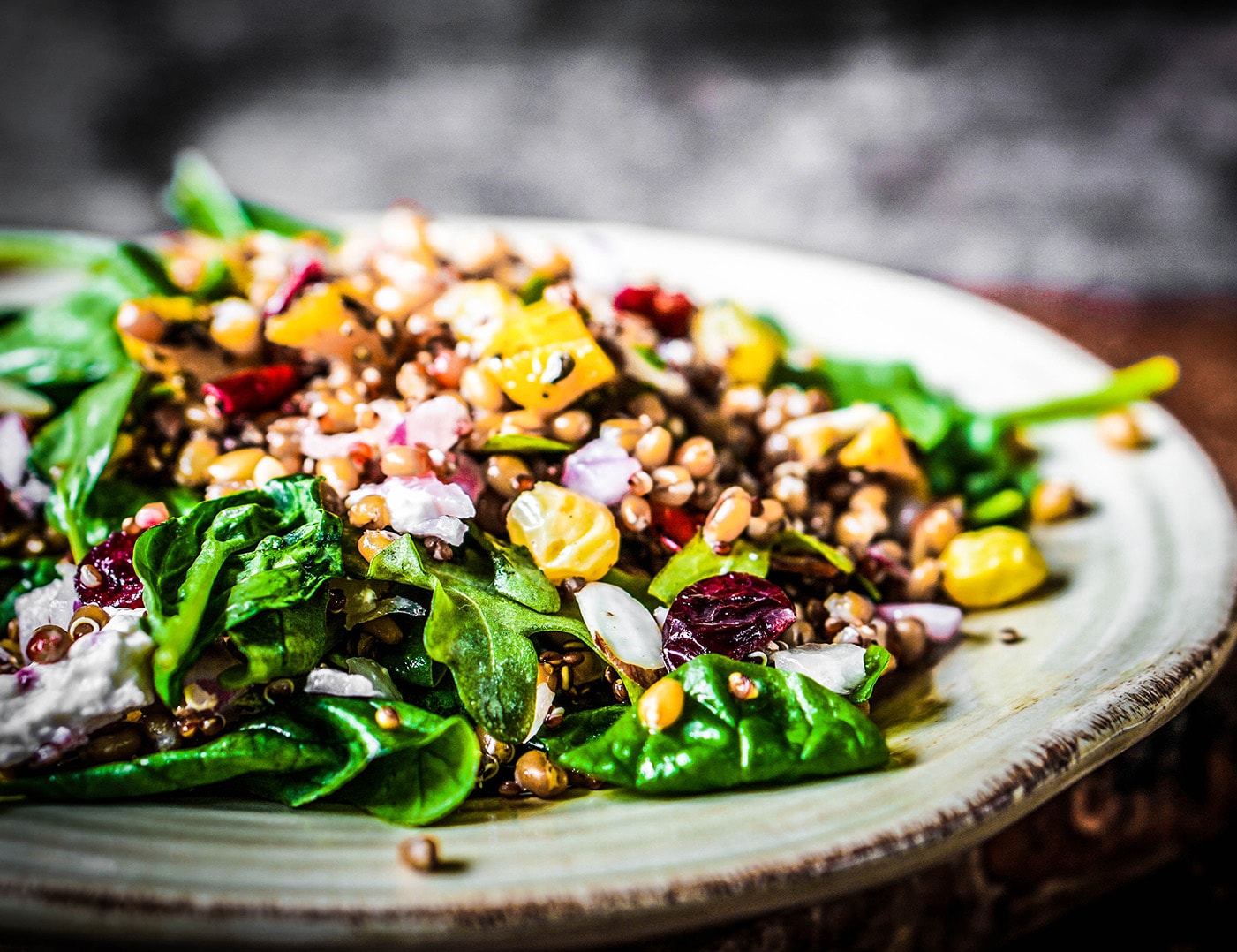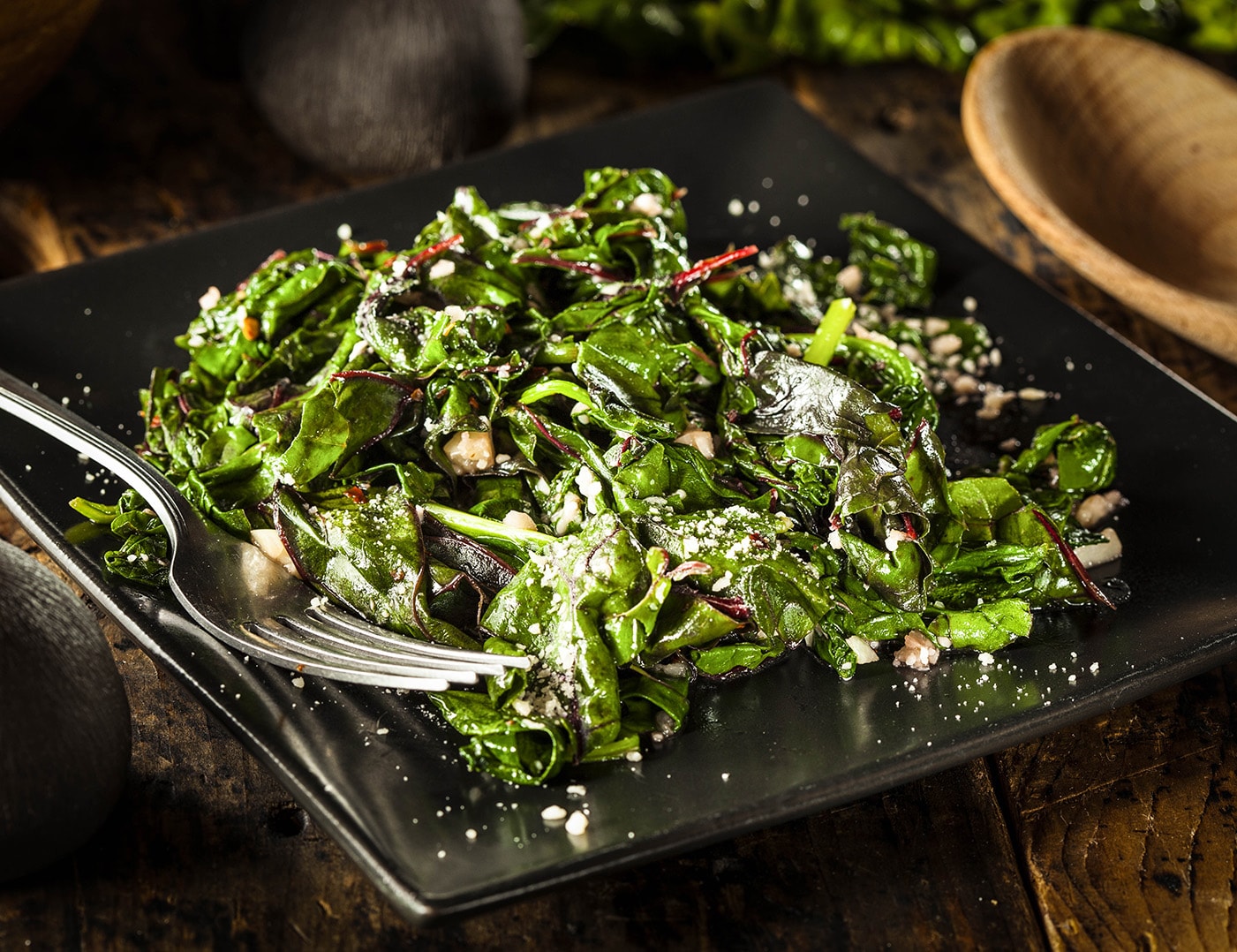 QUINOA SALAD
HOT & SOUR SWISS CHARD
INFORMATION
Prep Time: 20 minutes
Cook Time: 40 minutes
Total Time: 1 hour
Servings: 6 to 8
INGREDIENTS
1 1/4 cups uncooked tri-colored quinoa
2 cups water
5 cups butternut squash (cubed 1/4-1/2 inch cubes)
5 tablespoons olive oil, divided
salt
2 ½ cups brussel sprouts
1/2 medium red onion, diced
4 tablespoons lemon juice, divided
1/2 teaspoon paprika
1 medium apple
1/2 cup crumbled feta
1/3 cup dried cranberries
1/3 cup chopped parsley
INSTRUCTIONS
1. Add quinoa and water into a saucepan and bring to boil. Reduce heat to a simmer and continue cooking the quinoa until all the water has nearly evaporated. Turn off the heat and cover the saucepan with a lid. Let quinoa sit for 15 to 20 minutes so the quinoa can fluff up.
2. Preheat oven to 375ºF (190ºC). Line a large baking sheet with parchment paper. Set aside.
3. Toss butternut squash with 1 1/2 tablespoons of olive oil. Spread onto baking sheet and bake for 25 to 27 minutes, until the squash is fork tender. Remove from oven.
4. Trim the bottoms of the brussel sprouts. Chop them in half, and then slice them into 1/4-inch strips.
5. Heat another 1 1/2 tablespoons of olive oil in a large pan. Add onions and sauté them for a minute or two, until they start to soften. Add brussel sprouts and cook for 3 to 4 minutes.
6. Add quinoa to a large bowl. Add 2 tablespoons of olive oil, 3 tablespoons of lemon juice, paprika and salt to taste.
7. Slice apple into thin strips and toss with a tablespoon of lemon juice. This helps keep the apple from browning.
8. Add butternut squash, onions, brussel sprouts, apple, feta, dried cranberries and parsley to the quinoa and stir everything. Adjust seasonings to your liking. If you want more tangy flavors in the salad, you can add a few tablespoons of vinegar or more lemon juice. Serve immediately.
---