Clean Cut
and Close Shaven
at FLX Salon & Spa

written by Bianca Zeiler
I got a behind the scenes look at the male beauty services offered at FLX Salon & Spa, when I was invited by Lead Club Concierge Alex Danais to sit in on an early morning shave and a haircut. As I walked into the spa, Jose, one of FLX's master barbers, was expertly snipping away. The hair cut came first, and was swiftly and deftly executed with a combination of scissors and clippers while Alex relaxed and he and I chatted away. Then came the real piece de resistance – the straight-razor shave.
Never having witnessed a straight-razor shave performed before, I was a bit nervous and unsure of what to expect, with images of Sweeny Todd floating in my head. Needless to say, the actual experience was the polar opposite; the shave was an elegant facial treatment that pampered, moisturized, and left Alex with, as he said, a face that "hasn't felt this smooth since high school!"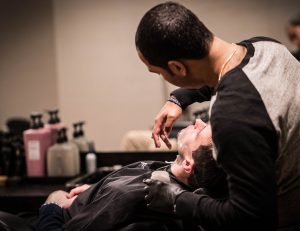 Jose began the shave experience with a skin prep, which included warm towels to open up the pores and relax the mind. He then used a series of products, including a shave gel rather than the traditional foam because, he explained, it is more moisturizing and allows you to get a closer shave. Because Alex had only a couple of days worth of stubble, Jose opted to shave "with the grain" to keep from irritating the skin. Watching him work with precision and skill, I thought about the men in my life that could use a close shave, and set a mental reminder to book some appointments…After the work was done, an aftershave product was applied to protect against irritation and redness, and Alex walked out fresh faced and ready for the day.
Spring is a great time to begin a professional shave regimen, especially if you've been sporting any kind of beard in the winter. Best of all, this month you can save on shaving with a great FLX Salon & Spa promo you can book right here.
If you're looking for a haircut, facial, or any other kind of treatment it's easy to book an appointment at FLX Salon and Spa on the MTB Here app, by reaching out to Matt Kay, FLX concierge, or through this website.