Body Contouring & Massages
Treat Yourself This Fall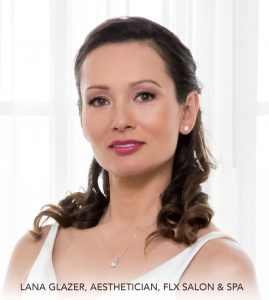 What comes to mind when you hear the word contouring? If you've been paying attention to trends, you're probably thinking about the makeup technique that sculpts your facial angles. But contouring is not just for the face, it can work wonders for the body as well, especially when it is done with the Emsculpt machine which now available at FLX Salon & Spa.
Unlike facial contouring, body contouring via Emsculpt is not simply temporary makeup. It is an FDA-approved toning device, a permanent solution for physical transformation that burns unwanted fat cells while strengthening muscle fibers. Lana Glazer, seasoned aesthetician, will guide you through this rejuvenating, noninvasive procedure. The Emsculpt device is placed on either your abdomen or glutes and emits electromagnetic pulses to contour your body. Just a single 30-minute session is equivalent to doing 20,000 sit-ups!
If you're interested in learning more about Emsculpt, schedule a consultation with FLX Salon & Spa to discuss how the fat burning device can transform your entire body shape. You can expect to see amazing results within the first two months.
Massages at FLX Salon & Spa

If you're looking for a more traditional form of revitalization, look no further than the comprehensive massage offerings at FLX Salon & Spa.
Take advantage of the lull before the holidays to schedule an appointment in our state-of-the-art massage rooms or request a relaxing massage in the comfort of your own home. More than half of our massage therapists are medically certified, meaning that they can offer relief for medical conditions as well as easing tension from your muscles. To schedule your next massage, email club@mtowerboston.com.